Stablemate Gemma's 2021 Season
After a shortened eventing year last year, it was so great to have a full season again this year with my 18-year-old Bay Irish Thoroughbred, Archie, and my mother's 12-year-old Bay Cob, Bob.
Archie and I started off the competition year on a great note in April, where our team won the Arena Eventing Qualifier at Richmond, qualifying us for British Riding Club Arena Eventing Championships at Aston le Walls in May! We had a fab time away at Champs, with everyone doing well and our team coming 11th in the country. It felt so good to be back out eventing! 
We also went to Breckenbrough as our first ODE of the year in mid-April. Archie got a 27.8 dressage, 1 unlucky pole showjumping, and a storming clear cross country – just missing out on the placings. Arch was keen, so he certainly enjoyed being back out again as well.
In May, we returned to Frenchfields in Cumbria – our lucky event! It proved lucky once again as Archie jumped a fabulous double clear to come 2nd. This was a great prep run for going away to the Arena Eventing Championships at the end of May, which proved useful as it was a decent course at Champs. Bob also went to do a show cross, but just missed out on the placings due to being too fast, rightfully earning him the nickname 'Turbo Cob'.
In June, we went to Warwick Hall where Arch jumped another brilliant double clear to take the win! Two fabulous rounds – he really is the best cross-country horse! We also took Bob to Ivesley, where he got a 33 dressage and a double clear, finishing 3rd. He's a little star when he concentrates.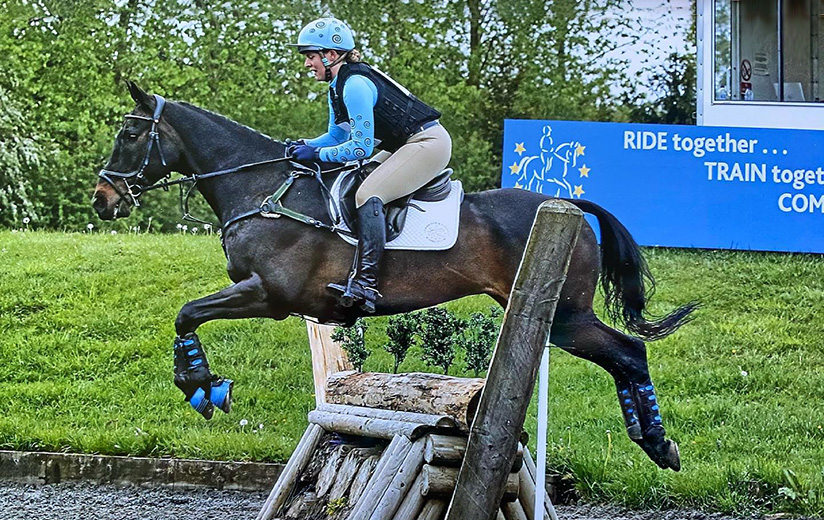 In July, we went to Alnwick Ford in Morpeth with Archie, where he got a 29.5 dressage, 1 unlucky pole showjumping, and a great clear cross country to finish just outside the top 10. We also had some trips away to do some showjumping and dressage, picking up a few more rosettes.
In August, we went back to our lucky event, Frenchfields, where it once again proved lucky, as we went double clear to come 2nd. August also saw the last of the Riding Club Evening Summer Dressage, where we finished on a high, winning both our Novice and Elementary Tests.
In September, Archie and I went to Ivesley for some dressage, where we did some 20×60 tests, and ended up winning them both with some great scores of 70.3% and 72.5%. Bob also went to the Strother Hunter Trial, where he finished 3rd in a huge section that was causing carnage! Archie and I finished off the season with a training camp in September and a grid lesson in October, concluding a brilliant year.
Now we're in the cold winter months, Archie is having some well-deserved time off, enjoying getting hairy and fat! We've had such a great year with some amazing runs and results. And for Archie to still be at the top of his game at the age of 18 really is something I'm very grateful for. He simply is the best horse and I'm very lucky to have such a great partnership with him. And of course, to give Archie and Bob the best living environment possible and to keep them at the top of their game, I always use our Stablemate range, which is now available on Amazon. 
Roll on eventing season 2022!