Working with Connect2Cleanrooms to boost production capabilities
The Challenge
During the COVID-19 pandemic, demand for AGMA products has been at an all-time high, and our key objective has been to maintain a continuous supply of critical products to our customers.
Despite global supply chain challenges related to the availability of raw materials and extended lead times, we have successfully achieved these objectives, without letting a single customer down by a lack of supply of our critical products.
With demand showing no signs of slowing down, we took a forward-thinking approach to improving our processes and performance. As a result, we wanted a solution that would help significantly extend our cleanroom capacity.
The Solution
To expand our cleanroom capabilities, we turned to our long-standing partners at Connect2Cleanrooms (C2C), who have previously helped build several of our clean environments at our Haltwhistle, Northumberland site.
We appointed them to transform a large existing space that provides contamination control for our manufacture of sterile wet wipes and dry wipes.
The cleanroom will house a production line for the impregnation and packaging of wipes with chemical solutions, which will then be supplied to global pharmaceutical markets and the NHS.
To meet global auditing regulations, C2C assured that this cleanroom was validated to ISO 14644-1:2015 class 7, giving quality assurance that our wipes are suitable for use in critical applications to control bioburdens.
The Results 
Working with C2C, we were able to reconfigure our facility by converting three of our rooms into one large space, into which we installed the custom-built softwall cleanroom. The cleanroom has been built for future capacity to accommodate a forecasted increase in demand, giving us the capability to significantly extend our capacity.
The cleanroom features separate changing areas and materials access zones, with the main area housing several machines for a range of applications such as packaging and label application.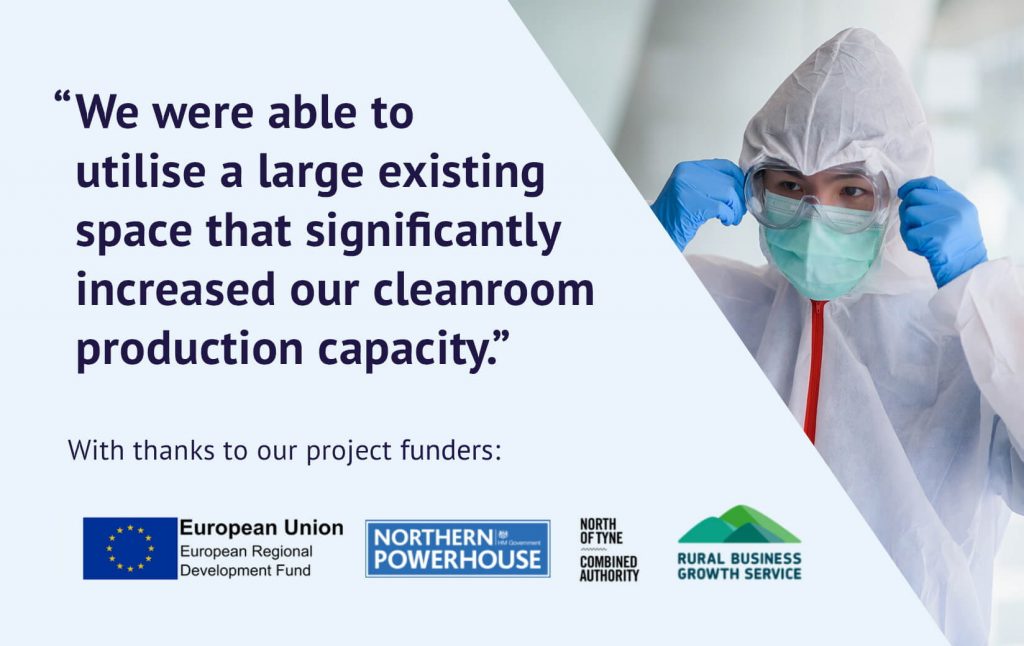 Discover more of our cleanrooms solutions and the sectors we serve or contact us for further information.
The cleanroom project has received funding from the England European Regional Development Fund as part of the European Structural and Investment Funds Growth Programme 2014 – 2020. The Rural Business Growth Service project is part-funded by the European Regional Development Fund and the North of Tyne Combined Authority.