Batsford Stud is home to world renowned stallions, those of which include Danon Ballade, Haafhd, Native Ruler and Passing Glance. Batsford stud is a highly regarded stud and foaling centre who kindly agreed to test and review AGMA's Stablemate range. Tim Varey describes his experience using our products.
Tim: So let me start by writing, thank you for letting us try your new stable cleaning products. I have to say I am very pleased with all of them. We regularly deep clean our stables with a steam cleaner with the water temperature set at 100◦c, and we also use leading DEFRA approved disinfectants to ensure we keep the yard and stables as infection free as possible. This due to the high turnover of horses at our stud, especially in the breeding season.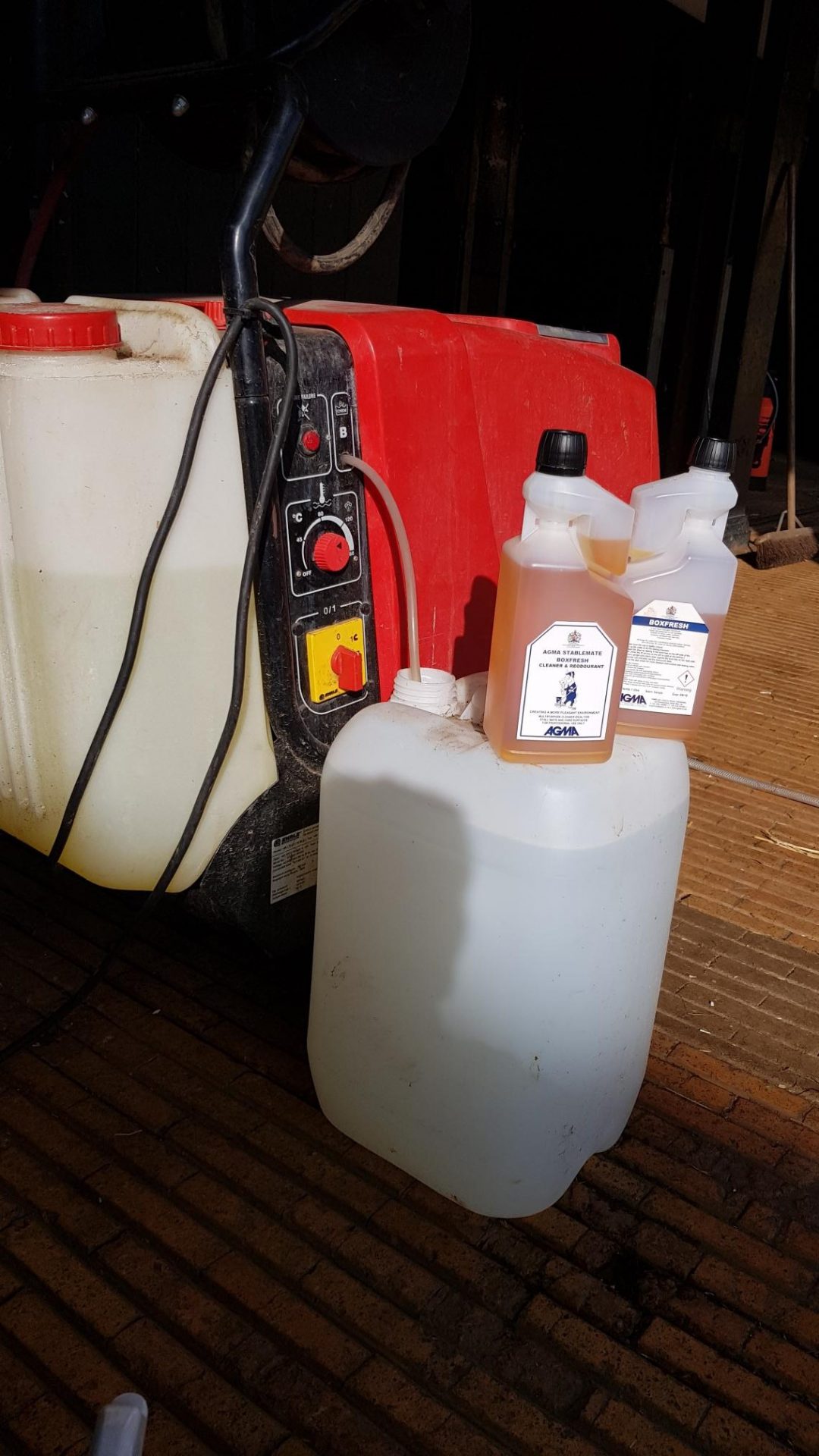 I will start with Stablemate Boxfresh, it's the first time that I have been able to run a cleaning product that is specifically designed for stable and equine yard environment through our steam cleaning machine without the risk of damaging the components within the machine itself. Although not a disinfectant, the cleaning power combined with the temperature of the steam cleaner has made the task of deep cleaning the stables more efficient. It definitely helps to remove heavily soiled areas and you can actually see  the areas you have managed to clean and the areas that have been missed. 
I would say on average, I have reduced the time spent on each box by 25% and the boxes are coming up cleaner, especially when you look at white painted areas. I used the highest dose recommendation of 60mL per 10L of water. I diluted the cleaner into a separate 20L container (120mL of cleaner concentrate). We use an EHRLE steam cleaner. I set the solution mix rate at 7(halfway) and that seemed to give a very good application of cleaner with the jet wash. The average box takes 30/40mins and I was using 7/8L of diluted cleaner per stable. Obviously these figures will go up or down depending on stable size and how soiled they are.
Once I had finished each stable, the cleaner had left them smelling very fresh and clean.
This leads me on to the next product, Stablemate Dis-in-fect. After cleaning the stable with the Boxfresh and ensuring that all soiling is removed, I then applied the Dis-in-fect by using a professional pump sprayer. This is the best way to ensure that the disinfectant is working at its best and for the longest period. Again using the highest dose recommendation for the DEFRA approved control of infectious disease, I used 1 tablet per 1.5 litres of water. I gave each stable a thorough spray from ceiling to floor and paying special attention to the most visited parts of the stable e.g. the mangers, auto drinker/buckets and the doors. (Remember to rinse water drinkers and mangers with just clean water prior to horses using them to remove any residual chloride).
After using these products combined, I am very satisfied that this has left each stable as sterile and infection free as we can. Giving me confidence that we are able to prevent the spread of any equine infectious disease.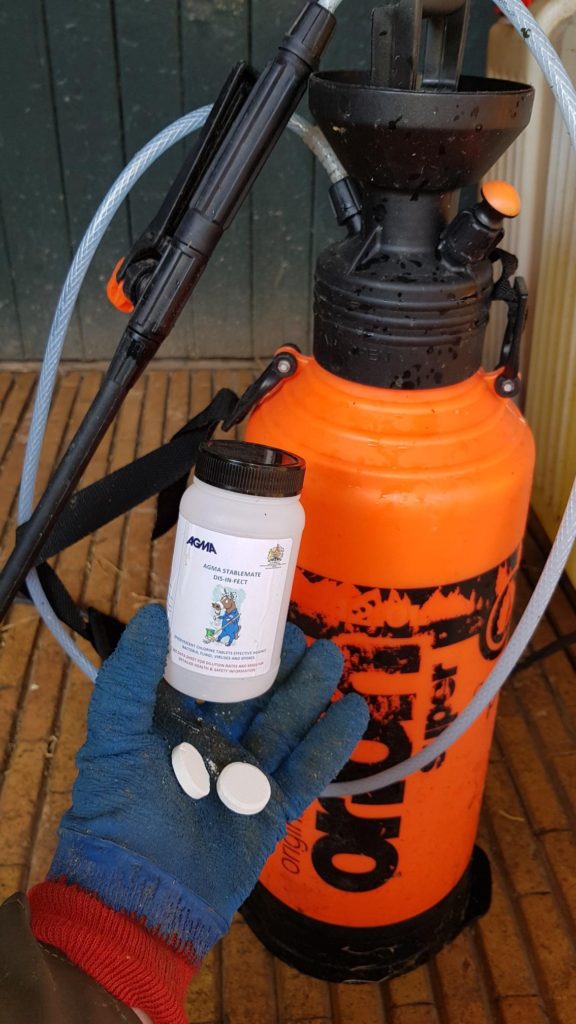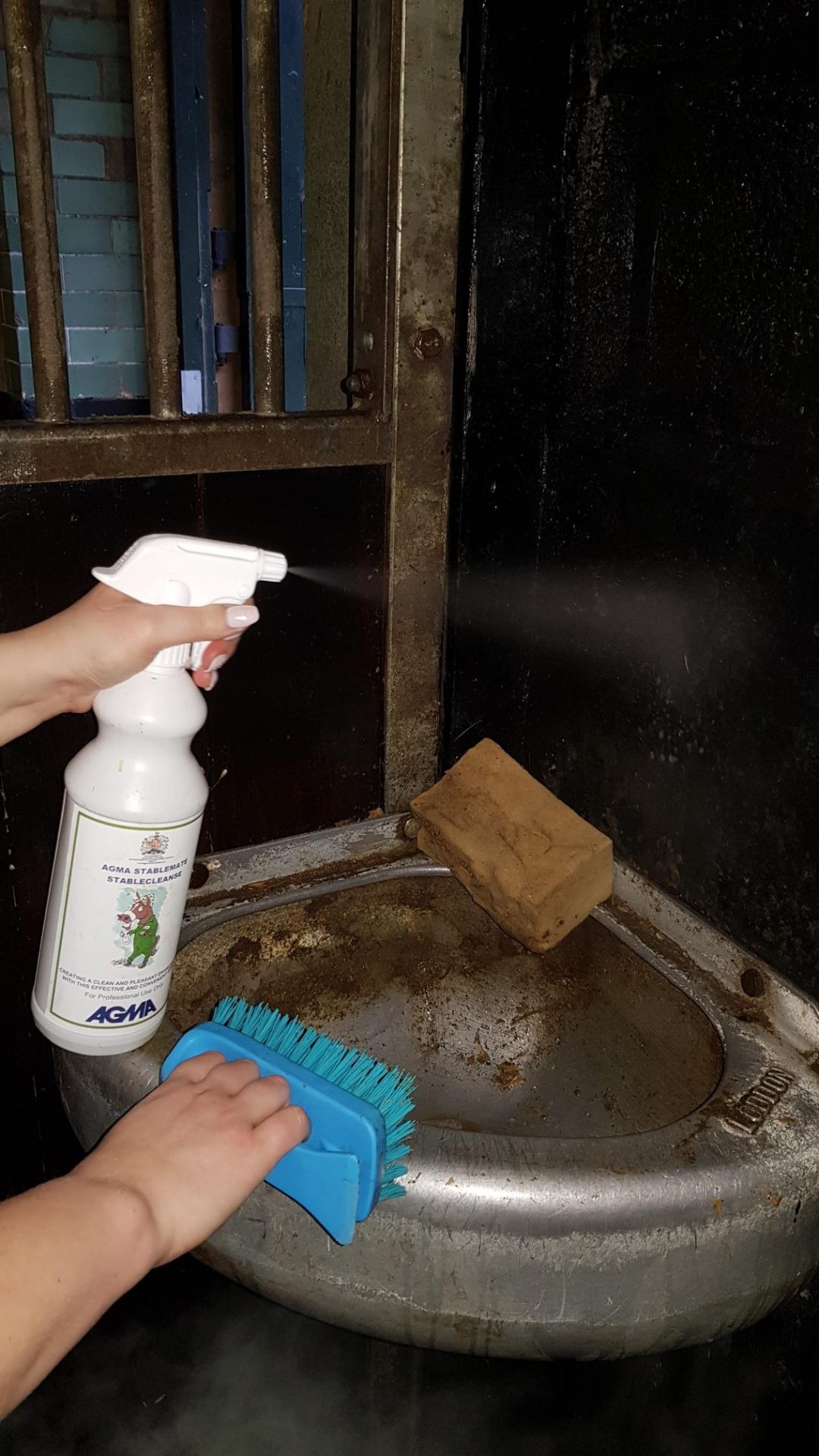 Stablemate Cleanse is a perfect daily cleaner for use around feed mangers and water drinkers/buckets. We applied a liberal spraying of Stablemate Cleanse, wiped off with a clean sponge, and used clean water with a sponge to remove any residual foam. This product is excellent for using around the areas in a stable that horses visit the most.
Equaroma, I have to admit that before using this I was very sceptical about it, for years companies have tried to come up with an 'air freshener' for stables and I have found them to not work at all. In my personal professional working experience within the equine industry, this is the first product of its type that I have found to do exactly what it says on the bottle.
The whole team at Batsford were surprised at how well this works. We applied it to areas where the horses urinate in the stables. These areas are where you find the strong ammonia smells. We used a liberal spraying over these areas and instantly it deodorised the soiled areas leaving a pleasant smell. To all of our surprise, 6-8 hours after we were feeding at evening stables, the boxes still had a pleasant smell.
So four fantastic products that we will now keep in our stable cleaning armoury.
I look forward to working with AGMA in the future.
Tim Varey