For over 50 years, we've helped businesses across a range of sectors achieve their regulatory and operational goals with our bespoke chemical solutions.
Servicing industries across 34 different countries, we ensure that each and every product we offer meets international standards for safety and effectiveness by doing things the AGMA way.
But what is the AGMA way? 
The AGMA protection 
We are a BS EN ISO 9001:2015 certified company which manufactures towards GMP standards. This means that we consistently meet customer, statutory and regulatory requirements through our product offerings.
This combined with our dedicated quality management team, controlled procedures, and stringent traceability of every single product, we ensure uncompromised quality and protection for every customer. 
The AGMA experts
Impeccable quality, deep formulation expertise, and exceptional customer service are the cornerstones of AGMA. Our team's dedication to these have placed us as a supplier of choice in a wide range of competitive markets from healthcare to aerospace, oil & gas and more.
Our dedicated scientists and chemists use their expertise when working hard to develop our entire suite of unique formulations, providing our customers with industry-leading, bespoke specialist solutions that are unavailable elsewhere on the market.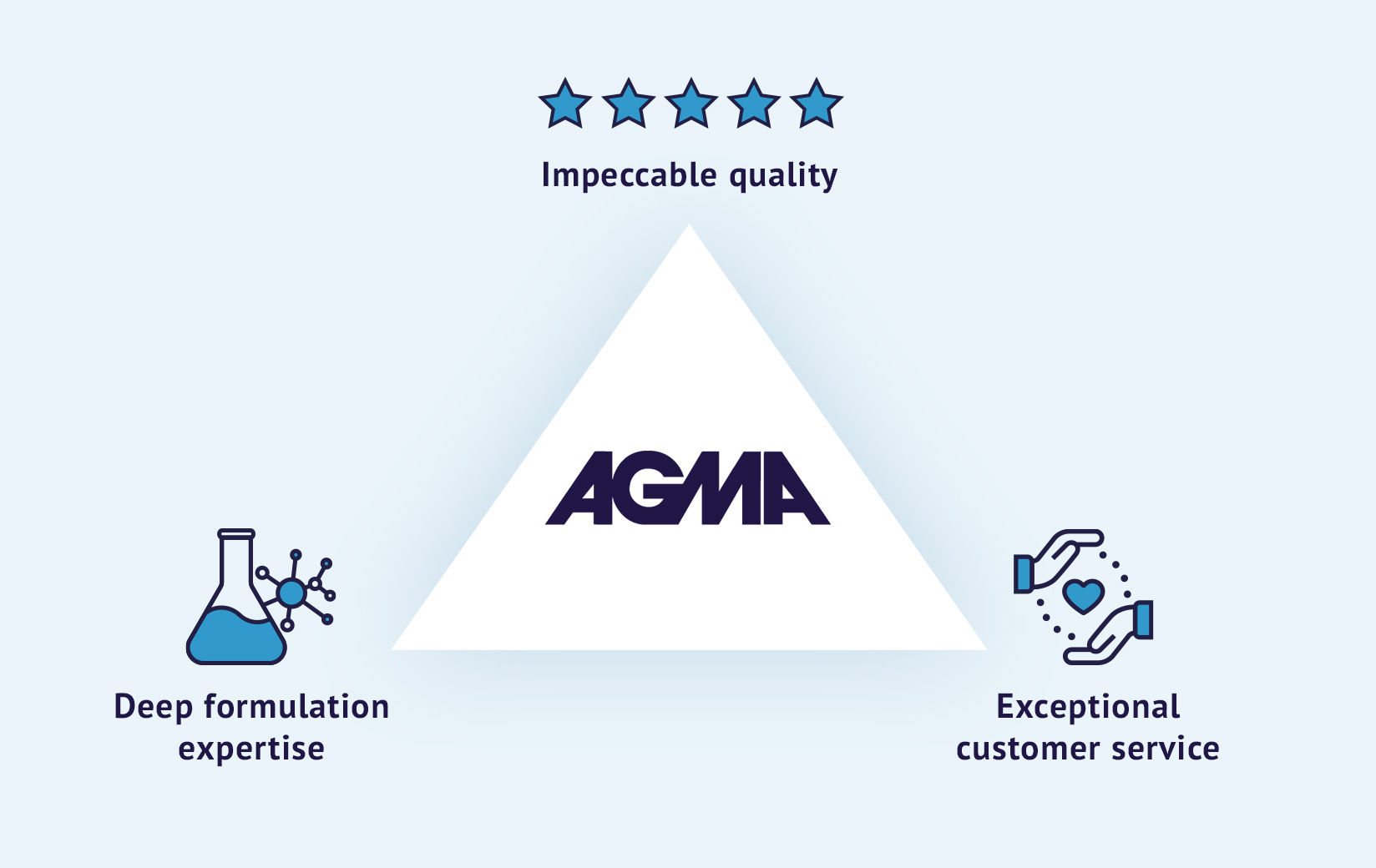 The AGMA experience
Today, our global customer base includes over 310 customers across 34 countries, and these numbers continue to grow. That's because we've worked hard for over 50 years to build a solid reputation as a trusted chemical supplier for organisations around the world. 
Over this time, we've kept ahead of changes in technology, legislation, ever-evolving environmental standards facing the industry, whilst continuing to develop new and innovative solutions.
The AGMA quality 
Since 1982, we have been holders of the Royal Warrant, a "mark of recognition to people or companies who have regularly supplied goods or services to HM The Queen, HRH The Duke of Edinburgh or HRH The Prince of Wales or their Households". 
This warrant recognises the quality and consistency that mirrors our values and our commitment to excellence, and was awarded to us for our passion for quality, employee retention, and a forward-looking mentality that has helped us adapt and evolve through even the most challenging times.
The AGMA way
We pride ourselves on our approach to business, ensuring that our customers receive the highest quality products, customer service, and overall partnership experience; this is the AGMA way.
If you have any questions or queries for our team, speak to one of our advisors today, and don't forget to follow us on LinkedIn for the latest AGMA news and developments.