As the weather worsens, our horses are spending more time inside throughout the chilly months, which could mean more risk of ailments developing. Therefore, it's essential for us to benefit our horses' health by making sure their stables are safe, hygienic, clean, and free from harmful spores and bacteria to prevent these ailments evolving. Here are five ways to prevent bacteria and spores from forming in your stable:
Regularly clean and disinfect your stable, buckets, doors, etc.
This is where bacteria and spores are likely to form when dirty, therefore, keeping on top of this and disinfecting regularly will prevent this.
Replace old bedding
Old bedding is likely to be dirty and unhygienic, meaning that this will negatively impact your horse's health – so making sure that bedding in the stable is clean is essential.
Consider the type of bedding you use
Some types of bedding are more likely to smell and hold bacteria. Therefore, choosing the right bedding for your horse helps maintain good health.
Good ventilation
Make sure the stable has good airflow. This will ensure that your horse's respiratory system is not compromised by dust that may settle due to poor ventilation
Keep mats, floors and walls clean
Making sure surfaces are clean is essential in preventing a build up of dirt and bacteria. Having a cleaning and disinfection routine on a regular basis is essential to prevent issues from occurring.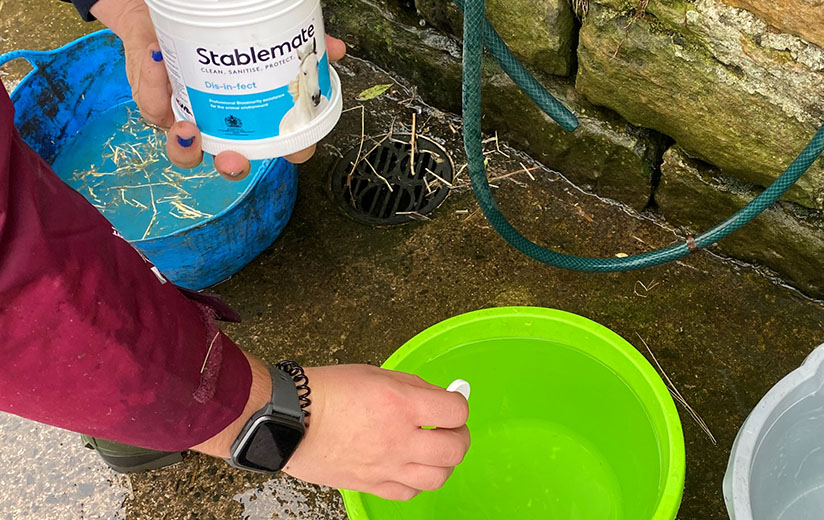 To take care of your horse this winter, Stablemate has all the stable cleaning and disinfection products to keep them safer. Clean with Boxfresh and Cleanse, disinfect with Dis-in-fect Tablets, and neutralise odours and create a relaxing environment with Equaroma.
Learn more about our equine yard cleaning products and disinfection products or visit the Stablemate website.